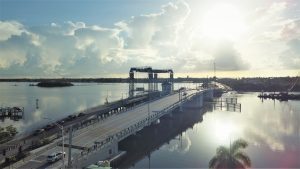 As one of the TPA's most important documents, the TIP identifies projects for maintaining and improving the transportation system funded by Federal, State and local sources to assist local governments with their transportation planning efforts.
This staged program encompasses a five-year period consisting of all regionally significant transportation improvements to all modes of travel in Palm Beach County. The TIP is based on, and reflects, the FDOT Work Program for Palm Beach County. Highway, bus, rail, port, bicycle/pedestrian and beautification projects are included. The TIP is developed through a continuing, cooperative, comprehensive and coordinated effort involving FDOT, the Palm Beach County Board of County Commissioners, the Port of Palm Beach, the South Florida Regional Transportation Authority and municipalities within the County.
Please note: the identified projects may experience unforeseen complications and that the FDOT program and the TIP may be modified throughout the year to accommodate these issues. 
FY 2024 - 2028 TIP Amendment #1
Public Comment is now open for FY 2024 – 2028 TIP Amendment #1. This amendment includes:
Rolling of project phases not encumbered in FY 23 into FY 24
Increases in costs of SR-700/Connors Hwy resurfacing (4463741)
Addition of a design oversight phase to a new SW 18th Transportation Alternatives project (4507841)
Comments can be made using the form below through September 21, 2023.
FY 24-28 TIP Amendment #1 Public Comment
Currently Adopted FY 2023-2027 TIP
Appendix A: Glossary (included in TIP)
Appendix C: Public Participation (included in TIP)

Appendix G: TIP Amendments and Modifications
Appendix A: Glossary (included in TIP)
Appendix B: Public Meetings and Comments (included in TIP)
Appendix C: Federal Performance Measures (included in TIP)
Appendix H: Annual Listing of Obligated Projects (PDF) (available October 2023)
Appendix I: TIP Amendments and Modifications (occur throughout the year)
FDOT FY 24-28 Draft Tentative Work Program
The TIP starts with the TPA's annual adoption of a List of Priority Projects, then sharing the list with FDOT, then considers that adopted list in the development of a Draft Work Program.  FDOT presents the Work Program to the TPA "to determine the necessity of making any changes to projects included or to be included in the District Work Program and to hear requests for new projects to be added to, or existing projects to be deleted from, the District Work Program."