The Palm Beach TPA plans and prioritizes state and federal funds for transportation projects in Palm Beach County. As part of this process, the TPA administers an annual competitive call for applications process. The application portal is typically open from October to February and ranked in the List of Priority Projects (LOPP), adopted in July. Scoring criteria is based on the Goals, Objectives and Values of the Palm Beach TPA's adopted Long Range Transportation Plan (LRTP).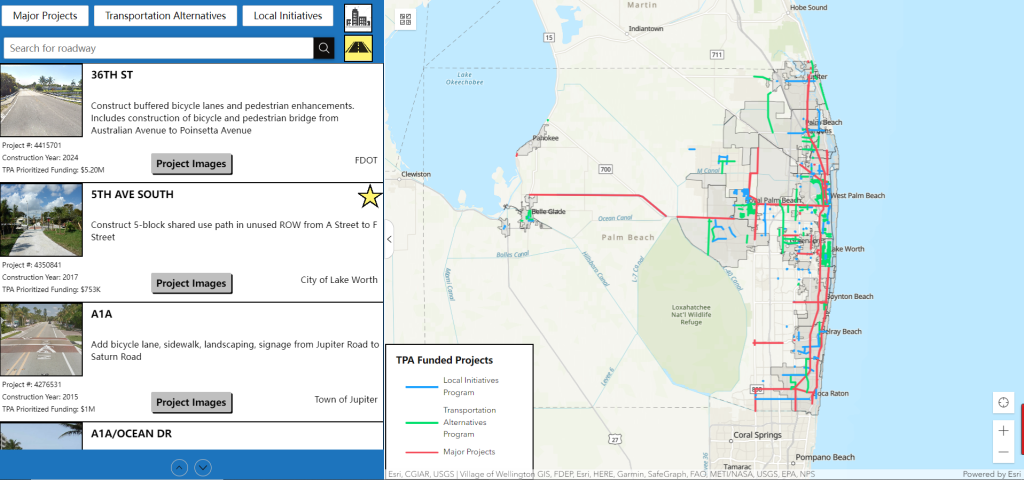 The TPA prioritizes approximately $20 million in state and federal funds annually for projects on State-owned roadways in Palm Beach County. The TPA's LRTP identifies the needs and cost feasible projects the TPA prioritizes for funding in the Transportation Improvement Program (TIP). Visit the Major Projects page for more information. 
The LI program is a TPA call for projects when funding is available that allocates the TPA's federal Surface Transportation Block Grant funds to Complete Streets projects. These are projects identified by local agency partners on local federal-aid eligible roadways that can be implemented without right-of-way acquisition. Visit the Local Initiatives page.
The TA Program is an annual call for projects funded with a sub-allocation of the TPA's federal Surface Transportation Block Grant funds for non-motorized pedestrian and bicycle facilities for Complete Streets, safety, and recreation. Visit the Transportation Alternatives page.
Other Funding Programs