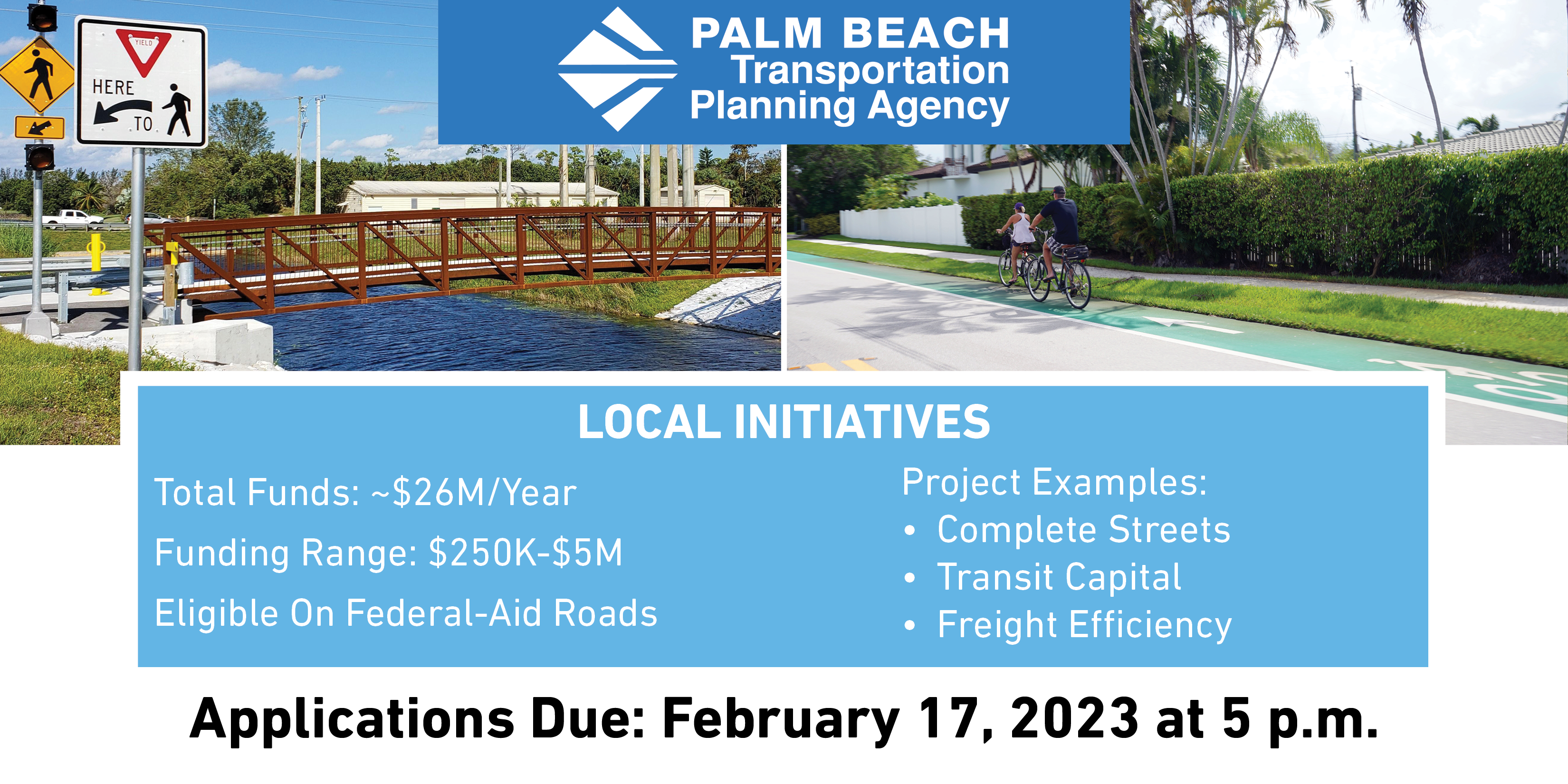 The adopted Long Range Transportation Plan (LRTP) allocates around $26 million annually of Federal Surface Transportation Program funds to advance lower-cost, non-regionally significant transportation projects identified by our communities. The Local Initiatives (LI) program is an annual competitive application process where projects are submitted to the TPA and prioritized for funding. Funded projects are either implemented by the applicant and funded through a grant reimbursement agreement or they are implemented by FDOT. Eligible entities include local governments, regional transportation authorities, transit agencies, natural resource or public land agencies, school districts, local education agencies and tribal governments in Palm Beach County.
Eligible projects include complete streets, including lane narrowing, lane repurposing, bicycle and pedestrian facilities, Intelligent Transportation Systems (ITS), operational improvements, signing and lighting; transit vehicles and facilities, including paying up to 50% of a 3-year turn-key contract for new transit service; and freight efficiency improvements, including airport & seaport off-site capacity improvements, truck movements, and railway capacity.
Review the LI Program Overview (PDF).
The 2023 application window is now closed
The applications are being vetted and ranked. The final list of projects will be provided in the Draft List of Priority Projects, presented to the committees on July 5-6, 2023 and to the Governing Board for final adoption on July 20, 2023.
Application Submittal Forms and Resources – Below are links to forms and examples to help with submitting an application. Please use the Application Form, and Cost Estimate Spreadsheet provided below as part of a project submittal.
The 2023 Application Window is Now Closed