To apply, please follow these instructions:
Submit all of the following items via email to HumanResources@PalmBeachTPA.org: 
Cover letter
Resume*
Completed and signed Employment Application (PDF)*
Samples/examples of completed work (if applying for a planning or public relations position)
*Documents required to be considered for the advertised job vacancy.
Please note that unsolicited applications and resumes received when there are no advertised job vacancies will not be retained or considered.
Applications and job descriptions may be requested in an alternative format by sending an email to humanresources@PalmBeachTPA.org or calling 561-725-0816.
Applicants must be currently authorized to work in the U.S. on a full-time basis. The TPA is not able to sponsor visas.
The TPA accepts and reviews applications as needed. If interested in an internship with the TPA, please send your resume to humanresources@PalmBeachTPA.org
The Palm Beach TPA is comprised of 16 staff members as shown in the organizational chart below.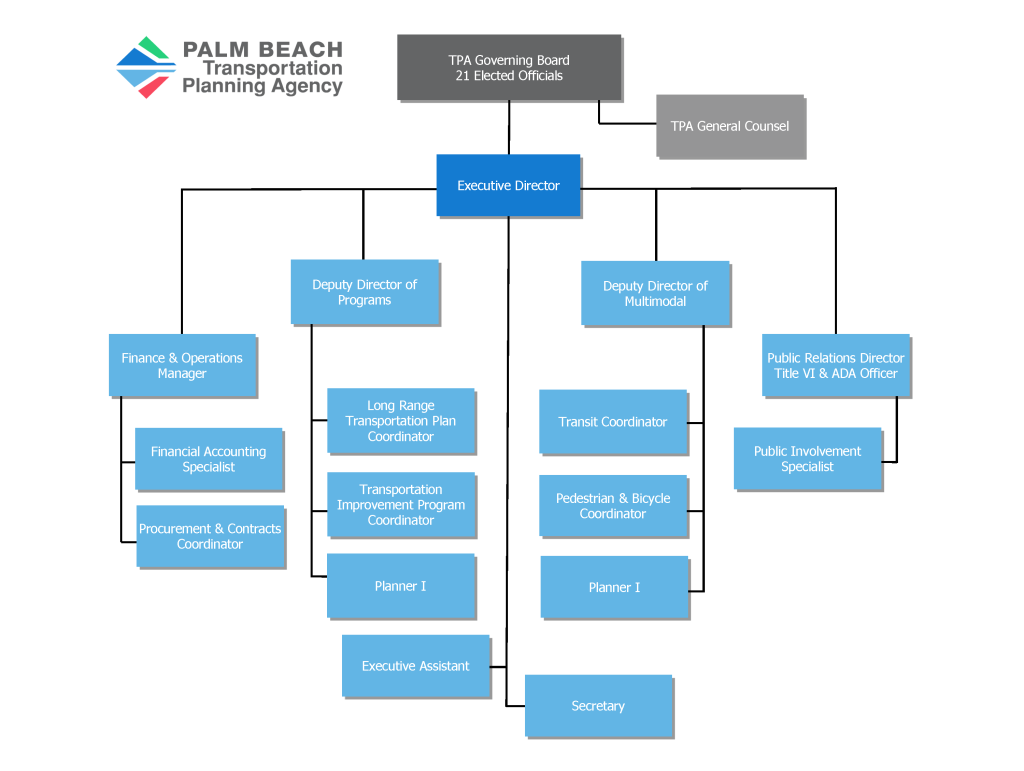 The TPA offers an excellent benefits package including employer paid insurance, retirement options in the Florida Retirement System (FRS) and 457 Deferred Compensation, as well as transportation subsidies and a tuition reimbursement program. The TPA also provides ample paid leave for holidays, vacations, sick time, comp time, bereavement, parental leave and other types of leave.